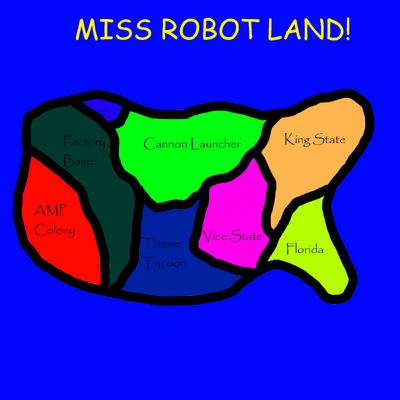 Miss Robot Land
is a continent that Miss Robot made, taking land from Antartica. It has states like the U.S., and similar laws, but is run by
Miss Robot
. It is the home of Miss Robot.
List of states
Edit
AMP Colony: A state ran by Mrs. AMP. It is usually trying to alter some laws.
Florida: Miss Robot took Florida from the U.S. and glued it to Miss Robot Land.
King State: This is the state where all the governemt buildings are located. Miss Robot lives here in the Orange House.
Factory Base: This is where all products are made, including paint happy bricks, warships, and Miss Robot's prenium water! It is highly polluted. Most of the factories are to the left of the state, and AMP Colony is heavily polluted from this.
2.0. Land: The smallest state, and home to Miss Robot 2.0.. This state is not officialy recognized by the governent.
Cannon Launcher: This place is where weapons like cannons are fired at the U.S. from afar.
Vice State: This is where Kerbi lives. There is also a bus to the King State and a teleporter to the school.
Theme Tycoon: This is where all the theme parks are located.
Officials
Edit
Locations
Edit
Mount Robotmore: Mount Rushmore but all the presidents are replaced by Miss Robot.
Elections
Edit
Every 4 years, the election is held. You vote for the president and vice president on the ballot. There is only one canadate on the ballot, Miss Robot, and Kerbi for Vice President.
Despite running a state here, Mrs. AMP does not live in Miss Robot Land.
According to the 200 B.C. census, the population is 3.